Good morning everyone! I hope you all are having a wonderful weekend.
Today I'm going to be going over the books, movies, and more that I'm excited for being released in September. It's currently September 5th, so some of these may be out already.
I'll leave pre-order links below each book through BookShop and through my local indie bookstore, Golden Bee Bookshop.
Books
Yadriel has summoned a ghost, and now he can't get rid of him.

When his traditional Latinx family has problems accepting his gender, Yadriel becomes determined to prove himself a real brujo. With the help of his cousin and best friend Maritza, he performs the ritual himself, and then sets out to find the ghost of his murdered cousin and set it free.

However, the ghost he summons is actually Julian Diaz, the school's resident bad boy, and Julian is not about to go quietly into death. He's determined to find out what happened and tie up some loose ends before he leaves. Left with no choice, Yadriel agrees to help Julian, so that they can both get what they want. But the longer Yadriel spends with Julian, the less he wants to let him leave.

Synopsis from GoodReads
This book came out on September 1st, 2020.
Garfield Logan has spent his entire life being overlooked. Even in a small town like Eden, Georgia, the 17-year-old with green streaks in his hair can't find a way to stand out–and the clock is ticking. Senior year is almost over. If Gar doesn't find a way to impress the Chosen Ones–the social elite at Bull Creek High School–he will never know what it's like to matter. Gar's best friends, Stella and Tank, don't understand why he cares what other people think. They miss their funny, pizza-loving, video game-obsessed best friend.

Then Gar accepts a wild dare out of the blue. It impresses the Chosen Ones and his social status soars. But other things are changing, too. Gar grows six inches overnight. His voice drops and, suddenly, he's stronger and faster. He's finally getting everything he wanted, but his newfound popularity comes at a price. Gar has to work harder to impress his new friends. The dares keep getting bigger and the stakes keep getting higher.

When Gar realizes the extent of his physical changes, he has to dig deep and face the truth about himself–and the people who truly matter–before his life spirals out of control.

Synopsis from GoodReads
This book came out September 1st, 2020.
Another laugh-out-loud romantic comedy featuring kilted musicians, Renaissance Faire tavern wenches, and an unlikely love story.

Stacey is jolted when her friends Simon and Emily get engaged. She knew she was putting her life on hold when she stayed in Willow Creek to care for her sick mother, but it's been years now, and even though Stacey loves spending her summers pouring drinks and flirting with patrons at the local Renaissance Faire, she wants more out of life. Stacey vows to have her life figured out by the time her friends get hitched at Faire next summer. Maybe she'll even find The One.

When Stacey imagined "The One," it never occurred to her that her summertime Faire fling, Dex MacLean, might fit the bill. While Dex is easy on the eyes onstage with his band The Dueling Kilts, Stacey has never felt an emotional connection with him. So when she receives a tender email from the typically monosyllabic hunk, she's not sure what to make of it.

Faire returns to Willow Creek, and Stacey comes face-to-face with the man with whom she's exchanged hundreds of online messages over the past nine months. To Stacey's shock, it isn't Dex—she's been falling in love with a man she barely knows.

Synopsis from GoodReads
This book is released on September 22nd, 2020.
Justin A. Reynolds, author of Opposite of Always, delivers another smart, funny, and powerful stand-alone YA contemporary novel, with a speculative twist in which Jamal's best friend is brought back to life after a freak accident . . . but they only have a short time together before he will die again.

Jamal's best friend, Q, doesn't know he's about to die . . . again.

He also doesn't know that Jamal tried to save his life, rescuing him from drowning only to watch Q die later in the hospital. Even more complicated, Jamal and Q haven't been best friends in two years—not since Jamal's parents died in a car accident, leaving him and his sister to carry on without them. Grief swallowed Jamal whole, and he blamed Q for causing the accident.

But what if Jamal could have a second chance? An impossible chance that would grant him the opportunity to say goodbye to his best friend? A new health-care technology allows Q to be reanimated—brought back to life like the old Q again. But there's a catch: Q will only reanimate for a short time before he dies . . . forever.

Jamal is determined to make things right with Q, but grief is hard to shake. And he can't tell Q why he's suddenly trying to be friends with him again. Because Q has no idea that he died, and Q's mom is not about to let anyone ruin the miracle by telling him. How can Jamal fix his friendship with Q if he can't tell him the truth?

Synopsis from GoodReads
This book comes out on September 22nd, 2020.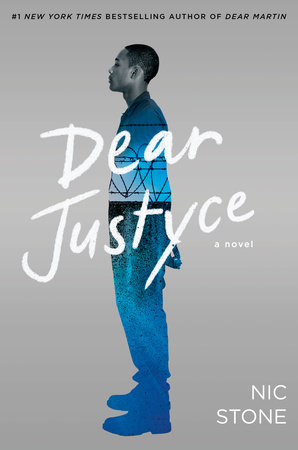 In the stunning and hard-hitting sequel to the New York Times bestseller Dear Martin, incarcerated teen Quan writes letters to Justyce about his experiences in the American prison system.

Shortly after teenager Quan enters a not guilty plea for the shooting death of a police officer, he is placed in a holding cell to await trial. Through a series of flashbacks and letters to Justyce, the protagonist of Dear Martin, Quan's story unravels.

From a troubled childhood and bad timing to a coerced confession and prejudiced police work, Nic Stone's newest novel takes an unflinching look at the flawed practices and ideologies that discriminate against African American boys and minorities in the American justice system.

Synopsis from GoodReads
This book comes out on September 29th, 2020.
Movies
This came out September 4th, 2020.
There was a special kind of release for this movie and I know that I won't be getting it that way. It was being sold through Disney+ for, like, $30. And I won't be spending that much on it right now. But I'll definitely be watching it at some point in time.
This movie comes out on Netflix on September 16th, 2020.
I'm not too sure what is going on in this movie, but it's got a cast that caught my attention. So I'm planning on watching it at some point in time. And this is really one of the only movies that I have an interest in.
Video Games
This game comes out September 18th, 2020.
Nintendo has my soul. That's really it. All of my games are pretty much Nintendo. So it's no surprise that I'd be excited to replay these games.
---
I think that's really it that I'm going to be talking about today. I don't think there's really anything else for September that caught my eyes.
Comment below with the releases you're excited about!
Thank you all so much for joining me and I hope you all enjoyed. I'll see you all very soon. Have a wonderful rest of the weekend!