Good morning everyone! I hope you're all doing well. I was originally planning on doing separate posts for my anticipated releases, one with just books and the other being everything else. But I got a behind on my posting again so I'm going to combine them!
If you all would like me to continue to separate them, then let me know. Also, if you'd like for me to do a check-in post for my January anticipated releases, let me know and I can do that in February and continue it throughout the rest of the year.
I know that the books won't be as exciting because I wouldn't have read most of them, but when it comes to shows and movies and other stuff, maybe that will be different.
Anyway, let's just get into this and don't forget to let me know what you're excited about in the comments!
Books
This book came out of February 2nd.
Trigger Warnings: Abuse (emotional and physical); Torture; Toxic Relationships; Grief; Suicide; Violence; Trauma; Death
(All triggers were found on StoryGraph, check out the StoryGraph page linked below for more)
Lo Denham is used to being on her own. After her parents died, Lo's sister, Bea, joined The Unity Project, leaving Lo in the care of their great aunt. Thanks to its extensive charitable work and community outreach, The Unity Project has won the hearts and minds of most in the Upstate New York region, but Lo knows there's more to the group than meets the eye. She's spent the last six years of her life trying—and failing—to prove it.

When a man shows up at the magazine Lo works for claiming The Unity Project killed his son, Lo sees the perfect opportunity to expose the group and reunite with Bea once and for all. When her investigation puts her in the direct path of its leader, Lev Warren and as Lo delves deeper into The Project, the lives of its members it upends everything she thought she knew about her sister, herself, cults, and the world around her—to the point she can no longer tell what's real or true. Lo never thought she could afford to believe in Lev Warren . . . but now she doesn't know if she can afford not to.
This book came out February 2nd
From New York Times bestselling and award-winning author Rene Watson comes a new YA–a love story about not only a romantic relationship but how a girl finds herself and falls in love with who she really is.

When Nala Robertson reluctantly agrees to attend an open mic night for her cousin-sister-friend Imani's birthday, she finds herself falling in instant love with Tye Brown, the MC. He's perfect, except . . . Tye is an activist and is spending the summer putting on events for the community when Nala would rather watch movies and try out the new seasonal flavors at the local creamery. In order to impress Tye, Nala tells a few tiny lies to have enough in common with him. As they spend more time together, sharing more of themselves, some of those lies get harder to keep up. As Nala falls deeper into keeping up her lies and into love, she'll learn all the ways love is hard, and how self-love is revolutionary.

In Love Is a Revolution, plus size girls are beautiful and get the attention of the hot guys, the popular girl clique is not shallow but has strong convictions and substance, and the ultimate love story is not only about romance but about how to show radical love to the people in your life, including to yourself.
This book will be out February 8th.
The only thing tempering their insta-hate is delicious attraction

Sunny chocolatier Charlotte Beecher is unemployed, in student debt, and on the verge of hawking her beloved copper pots just to make ends meet. So when a gourmet chocolate factory chooses her as one of five candidates to help re-launch the company in their Charlie and the Chocolate Factory inspired competition, Charlotte begins to see a light at the end of the tunnel

Fellow contestant Luke Wells complicates her plans to win by a landslide with his flow charts and marketing projections. Mr. Tall, Dark, and Haughty is all about the bottom line and is as bitter as she is sweet. And when he snubs Charlotte in the first challenge, misunderstanding or not, she transforms from cream puff to jawbreaker. Bring. It. On.

But when these two rivals find themselves distracted by delicious attraction, will they let their passion get in the way of winning the competition?
This book comes out on February 8th
Izzy Fineberg can take on any challenge—and she's had some big ones lately. After one fateful night with the hottest Deaf man she'd ever met, Izzy found she was pregnant with his child. And she never caught his name. She's been doing the single mom thing for nine months now, and surely, nothing could be more challenging than that. But her first day at her new job, she meets her supervisor…and recognizes him immediately.

Nolan Holtzman never expected to see Izzy again, and now, she's the new hire at the agency he works in. He'd think things were finally going his way for once, if not for the iron-clad ban on interoffice dating. He'll have to keep his distance from her if he wants to keep his dream job helping the Deaf community. Much easier said than done when Izzy drops the bomb that she's a single parent…of his son.

It's the shock of his life, but that won't stop him from stepping up to be a dad. So when Izzy is suddenly in need of a place to stay for a week, Nolan invites her and the baby to his home. But even as difficult as it is, keeping their little family a secret from their employer isn't their biggest challenge ahead…
This book comes out on February 9th
**Trigger Warnings: Death, Disownment, Death of a Parent, Mutilation, Pedophilia, Rape, Starvation, Trauma, Torture, Violence**
The triggers listed above are from BookTriggerWarnings (which is linked below). There are more triggers listed on StoryGraph so make sure you check those out to be sure you're aware of what may trigger you.
Sixteen-year-old Deka lives in fear and anticipation of the blood ceremony that will determine whether she will become a member of her village. Already different from everyone else because of her unnatural intuition, Deka prays for red blood so she can finally feel like she belongs.

But on the day of the ceremony, her blood runs gold, the color of impurity–and Deka knows she will face a consequence worse than death.

Then a mysterious woman comes to her with a choice: stay in the village and submit to her fate, or leave to fight for the emperor in an army of girls just like her. They are called alaki–near-immortals with rare gifts. And they are the only ones who can stop the empire's greatest threat.

Knowing the dangers that lie ahead yet yearning for acceptance, Deka decides to leave the only life she's ever known. But as she journeys to the capital to train for the biggest battle of her life, she will discover that the great walled city holds many surprises. Nothing and no one are quite what they seem to be–not even Deka herself.
This book is out February 9th
**Trigger Warnings: Animal Death, Death, Blood**
Triggers are from StoryGraph. Check there for any more closer to release date/after for more triggers.
You may have heard of me…

Robin Goodfellow. Puck. Prankster, joker, raven, fool… King Oberon's right-hand jester from A Midsummer Night's Dream. The legends are many, but the truth will now be known as never before, as Puck finally tells his own story and faces a threat to the lands of Faery and the human world unlike any before.

With the Iron Queen Meghan Chase and her prince consort, Puck's longtime rival Ash, and allies old and new by his side, Puck begins a fantastical and dangerous adventure not to be missed or forgotten.
This book comes out on February 16th
*Beware of possible spoilers of previous books in the series*

Nesta Archeron has always been prickly-proud, swift to anger, and slow to forgive. And ever since being forced into the Cauldron and becoming High Fae against her will, she's struggled to find a place for herself within the strange, deadly world she inhabits. Worse, she can't seem to move past the horrors of the war with Hybern and all she lost in it.

The one person who ignites her temper more than any other is Cassian, the battle-scarred warrior whose position in Rhysand and Feyre's Night Court keeps him constantly in Nesta's orbit. But her temper isn't the only thing Cassian ignites. The fire between them is undeniable, and only burns hotter as they are forced into close quarters with each other.

Meanwhile, the treacherous human queens who returned to the Continent during the last war have forged a dangerous new alliance, threatening the fragile peace that has settled over the realms. And the key to halting them might very well rely on Cassian and Nesta facing their haunting pasts.

Against the sweeping backdrop of a world seared by war and plagued with uncertainty, Nesta and Cassian battle monsters from within and without as they search for acceptance-and healing-in each other's arms.
This book comes out February 23rd and is probably my highest anticipated book!
**Trigger Warnings: Child Death, Drug Use/Abuse, Suicide, Racism, Gore, Murder, and more**
Triggers are from StoryGraph and BookTriggerWarnings. There are a lot so please make sure to take a look at those two places to see if there's anything that might be triggering for you in this book.
The Cruel Prince meets City of Bones in this thrilling urban fantasy set in the magical underworld of Toronto that follows a queer cast of characters racing to stop a serial killer whose crimes could expose the hidden world of faeries to humans.

Choose your player.

The "ironborn" half-fae outcast of her royal fae family.
A tempestuous Fury, exiled to earth from the Immortal Realm and hellbent on revenge.
A dutiful fae prince, determined to earn his place on the throne.
The prince's brooding guardian, burdened with a terrible secret.

For centuries, the Eight Courts of Folk have lived among us, concealed by magic and bound by law to do no harm to humans. This arrangement has long kept peace in the Courts—until a series of gruesome and ritualistic murders rocks the city of Toronto and threatens to expose faeries to the human world.

Four queer teens, each who hold a key piece of the truth behind these murders, must form a tenuous alliance in their effort to track down the mysterious killer behind these crimes. If they fail, they risk the destruction of the faerie and human worlds alike. If that's not bad enough, there's a war brewing between the Mortal and Immortal Realms, and one of these teens is destined to tip the scales. The only question is: which way?

Wish them luck. They're going to need it.
This book will be out on February 23rd
**Trigger Warnings: Abuse, Animal Cruelty, Racism, Kidnapping, Self Harm, Death of a Parent, and many more**
As you can probably tell, I try to list all triggers first thing. This one just has too many to list and it's a thriller by Mindy McGinnis, you should expect a lot. Make sure you are checking the StoryGraph linked below for all the triggers in this book.
Welcome to Amontillado, Ohio, where your last name is worth more than money, and secrets can be kept… for a price.

Tress Montor knows that her family used to mean something—until she didn't have a family anymore. When her parents disappeared seven years ago while driving her best friend home, Tress lost everything. She might still be a Montor, but the entire town shuns her now that she lives with her drunken, one-eyed grandfather at what locals refer to as the "White Trash Zoo," – a wild animal attraction featuring a zebra, a chimpanzee, and a panther, among other things.

Felicity Turnado has it all – looks, money, and a secret that she's kept hidden. She knows that one misstep could send her tumbling from the top of the social ladder, and she's worked hard to make everyone forget that she was with the Montors the night they disappeared. Felicity has buried what she knows so deeply that she can't even remember what it is… only that she can't look at Tress without having a panic attack.

But she'll have to.

Tress has a plan. A Halloween costume party at an abandoned house provides the ideal situation for Tress to pry the truth from Felicity – brick by brick – as she slowly seals her former best friend into a coal chute. With a drunken party above them, and a loose panther on the prowl, Tress will have her answers – or settle for revenge.

In the first book of this duology, award-winning author Mindy McGinnis draws inspiration from Edgar Allan Poe and masterfully delivers a dark, propulsive mystery in alternating points of view that unravels a friendship . . . forevermore.
This book comes out February 23rd
**Trigger Warnings: Cancer, Mental Illness, Grief, Forced Institutionalization, Death, Death of a Parent**
These trigger warnings are from StoryGraph. Make sure to check there for more as release day comes closer and more people are reading and reviewing it**
For the past five years, seventeen-year-old Megan Cooper has built a wall around her heart with little room to experience true feelings. However, her entire world shifts the moment she hits Cupid with her car driving home from finals. With his shooting arm significantly injured, she has no choice but to take his place.

Now, as Megan races to find Cupid's final three love matches in order to meet his quota by the start of the new year, she comes face to face with the very emotions she's been pushing away for so long.

Caught between what her head is saying and what her heart longs for, Megan must face old wounds, find forgiveness, and track down the perfect match for the one boy she can't stand.

This YA debut is a touching and heartwarming shot through the heart for teen and adult readers alike!
---
Movies
This movie comes out February 26th in theaters and on HBO Max.
Adaptation of the classic Hanna-Barbera property, which reveals how Tom and Jerry first meet and form their rivalry.
---
K-Dramas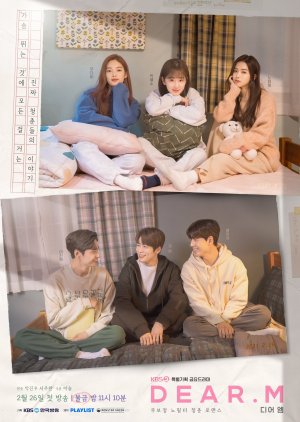 This show starts on February 26th
"Dear.M" will tell the story of the campus-wide search for the mysterious "M," an individual who is mentioned in an anonymous post on a Seoyeon University online community. The realistic romance drama will follow the changing relationships and budding romances between various characters in the wake of all the buzz about "M."

Ma Joo Ah is a 2nd year student in the Business Administration Department at Seoyeon University. She has a warm heart and bright personality. She is not interested in pursuing a dream or having a romantic relationship. She has never had a boyfriend before.

Cha Min Ho is a 2nd year student in the Computer Science Department at Seoyeon University. He has a talent for developing apps with innovative ideas. He is bold and cheeky, but also has a serious side. He has been friends with Ma Joo Ah for 12 years.

Seo Ji Min is a student in the Economics Department at Seoyeon University. She is also a member of the schools cheering squad.

Park Ha Neul is a student in the Business Administration Department at Seoyeon University and he is an honorary ambassador for the university. He is Cha Min Ho's roommate along with Gil Mok Jin.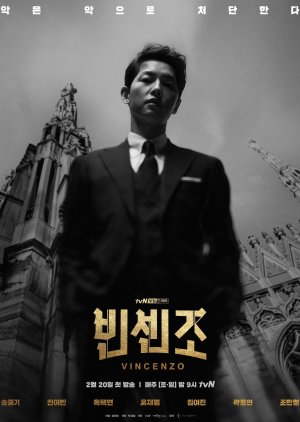 This show starts on February 20th and according to MyDramaList, will be on Netflix. (Don't quote me on that, though)
At the age of 8, Park Ju Hyeong is adopted and sent off to Italy. Now an adult, he is known as Vincenzo Casano. He is a Mafia lawyer and consigliere ( Advisor and Dispute Reconciliation Expert). Warring factions within the Mafia force him to flee to South Korea. There he falls in love with Hong Cha Young, a lawyer who will do anything to win a case. Vincenzo manages to achieve some social justice there, and in his own way.

Jang Jun Woo is an intelligent and hardworking first-year law intern at the firm, who is polite and sincere. Despite his boyish charm and good looks, Jun Woo can come across as awkward and naive. Prone to making mistakes, he is often trouble at work.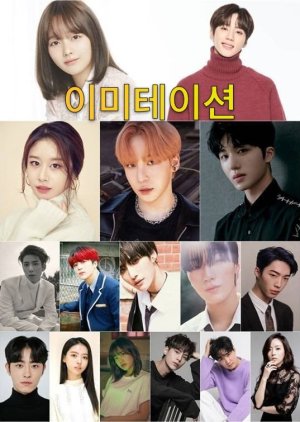 This show starts February 22nd
Ma-Ha (Jung Ji-So) is a member of girl group Teaparty. The other members are Ri-A (Minseo) and Hyun-Ji (Lim Na-Young). Since their debut, they haven't achieved much success. Ma-Ha has received some attention due to her resemblance to popular singer Ri-Ma (Park Ji-Yeon).

Teaparty then takes part in a reality TV program, involving popular idol groups participating in sporting events. Ma-ha wants to catch the attention of viewers. Meanwhile, Kwon Ryeok (Lee Jun-Young) is member of popular boy band Shax. He is well liked and is good at singing, dancing, and acting. He is also focused on maintaining his success. He doesn't like Ma-Ha, who imitates the appearance of popular singer Ri-Ma. During the TV program, Hyeok (Jong Ho) from boy band Shax gets injured due to Ma-Ha. Kwon Ryeok bursts out with anger at Ma-Ha. She also receives hate from other people. Ma-Ha doesn't want to see Kwon Ryeok anymore, but they cross paths on TV programs and while performing in a drama series.
---
I won't lie, I didn't FULLY look into much this month. At the beginning of the year, I looked into releases coming throughout the year and added them to a list. Usually, before I post the anticipated releases post for that month, I check again to see if anything was announced. I don't really think much would have been between January and now, but I wanted to say that because that means there is likely things that I missed.
But anyway, that's it for now! I do hope you all enjoyed. Let me know what releases you're anticipating in the month of February and I'll see you all very soon!