Let's talk about the plans that I have for June. This includes reading, watching, and doing!
Good morning everyone! I hope you're all doing well today and have been doing well over the last bit. It's certainly been a while.
I do have posts coming out related to how my 2021 has been going so far so I'm not going to get too much into that here. We're just going to go over some plans that I have for June.
But before getting into that, I want to talk to you all about something that I'm doing with Donna from Mom's Book Collection for Readathin!
We decided that we wanted to start doing 24 hour Readathins on the months that we're not doing Readathin. But we know that not everyone can do a 24 hour so you have an opportunity to read the books over the course of the week leading up to the 24 hour.
Today, tomorrow and the day after we'll be posting the announcements for the challenges on our Instagrams. So make sure you're following both of us for those announcements! Also, check out my Discord and the Readathin Twitter for any announcements or sprints that we are doing.
Reading
All of my planned reading is going to be around my bookish bingo to determine what books I want to read based on the challenges.
The first challenge that I am going to be completing is standalone. This is just a book that's not part of a series. For this one I'm going to be reading Scandal of the Season by Liana LeFey.
This is a historical romance and that's all I really know about it. I have been loving historical romances as webtoons recently so I definitely want to try reading some historical romance books to see how I like them. I've have this one for a long time so I definitely want to prioritize it.
The next challenge is to read a sapphic book. For that one I'm going with One Last Stop by Casey McQuiston.
I got this ARC from Netgalley for review. I'm still working on getting back into reading so I didn't get this ARC finished before release. But I do still plan on reading it and posting a review. I did start it and I'm really enjoying it so far. It's definitely taking a twist I didn't really see coming but I'm here for it.
Like I said, I'll be trying to post a review here on my blog for it so make sure you are following me for that review!
The next challenge is to read a book that's less than 500 pages. For this one I decided that I wanted to finally read Geekerella by Ashley Poston. This book is also going for the Read Your Bookshelf challenge for June of reading a book with an animal of the cover.
This is a YA romance, and the first in a series, between a girl who loves fandoms and the guy who is supposed to play the main guy in the remake of her favorite show. This is a Cinderella retelling and I'm really interested to see it done at a nerdy convention. I'm so here for it as a fellow nerd.
For the next challenge I have to read a book that's set in a city I want to visit. This one was harder to find just because sometimes it's hard to find the city it takes place before reading it. But I decided to go with Kingdom of the Wicked by Kerri Maniscalco. This book takes place in Sicily, Italy and I think it would be really interesting to visit there.
I've been putting this book off for so long now because I haven't wanted to read it during my slump. But I'm putting it back on my TBR with hopes I'll be able to get out of my slump before reading it.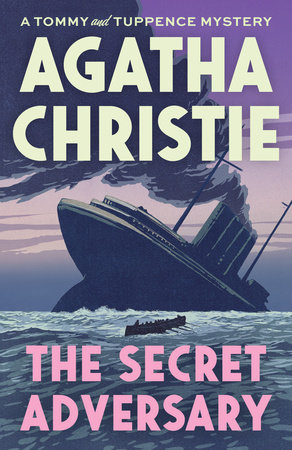 The last challenge is to read a book that's just been gathering dust on my shelves, so one that's been on my TBR for a while. For this I'm going to read The Secret Adversary by Agatha Christie.
This book has been on my shelves for so long now and been on my radar to read for even longer. But I just haven't read it yet. So I can't wait to actually get to it soon. It's one of my unwrapped books as well from a couple months ago so I need to get it read soon.
If I finished these books then I have quite a few other ones that I would like to get to. But I don't want to plan too much because my reading hasn't been great lately. But I do want to read books like Out Now, All Out, Felix Ever After, and books for other yearly challenges. These are just the books going for my bingo.
---
Watchlist
I'm not going to go into any detail about any of the movies or shows I want to watch. But just know that I have a lot I want to watch but I'm really excited about all of them.
---
And that's going to be it! I have big plans this month, but that's okay! I hope that I can manage to get everything done. I'll be posting weekly updates on how I'm doing so make sure you're following to be notified when those go live and so you all can see how I'm doing.
Thanks so much for hanging out and don't forget to let me know what you plan on doing this June!
Make sure you're all following my Instagram, Twitch, and in the Discord so we can chat outside of these blog posts. All links are here! I'll see you all again soon. Bye!