Hey everyone! I hope you're all doing well! Today we're going to be going over the whole ONE book that I finished this month.
If you want to know the 3 books that I'm currently working on, then make sure to check out my TBR for May.
So, let's just get right into this.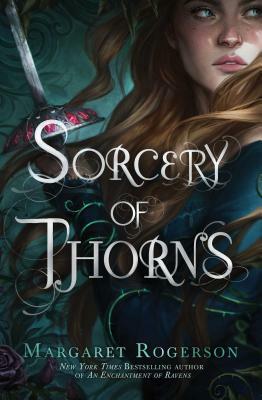 Sorcery of Thorns by Margaret Rogerson
CW/TW: Death, Violence, Blood, Forced institutionalization, Confinement, Misogyny, Child death, Death of parent, Panic attacks/disorders
Rating: 4 out of 5 stars
This book is about a girl who was raised in a library that held magical books. After that library was attacked and blamed on her, she sets off to figure out who was really behind the attack and to stop them.
I really enjoyed this book, honestly. There wasn't really anything that I could pick out to tell you that was "wrong" with it, but I will say that I wish there was a bit more. It wasn't lacking, but I feel like I wanted MORE.
I wanted to go more in depth into her life and the love interest's. I wanted more of the magic system. I wanted more of freaking Silas. Holy crap, I loved Silas and just want more from him.
But I really enjoyed seeing this story unfold and the turns that it took. The audiobook was well done, in my opinion, and I definitely will listen to more from that narrator. I also will definitely read from this author again.
---
Honestly, I'm not even going to get into my stats for this month because they would literally just be for this one book. So there's really no point.
So that's really all I have to talk about…
---
Thank you all so much for joining me for this SUPER quick blog post and I hope you enjoyed it. I'll be back again in a couple days with a book tag, so look forward to that!
Let me know what you read in April and/or what your favorite read for April was!
I'll see you all again very soon and don't forget to follow my social media to see more from me outside of my posts here. I definitely post more on Instagram and I'm fairly active in Discord. So make sure you're following and joining the Discord to keep that chats going.
Bye!!